Looking for an email marketing solution? If so, then here's the MailChimp review that you've been looking for.
If you're unfamiliar with MailChimp, it's an email service provider that was created by rocket scientists.
At least, they call themselves rocket scientists.
The Rocket Science Group released MailChimp way back in 2001. Ever since then, it's been the "go to" email marketing solution for countless digital strategists.
In this MailChimp review, we'll go over all the pros and cons of the service. Then you'll be in a better position to make an informed decision about whether or not you'd like to use it.
An Overview of MailChimp
Let's start with a broad overview of MailChimp.
One thing that stands out immediately is the quirky brand personality. That's understandable because the company's name is "MailChimp" and its logo is the face of a chimpanzee.
That chimp's name, by the way, is Freddie. The company views him as a quasi-mascot.
If you want to get a feel for the MailChimp's business persona, just browse through an annual report. It's actually fun to read.
Of course, MailChimp is more than just a happy brand. It also offers an email marketing service with a number of popular features. Among them:
A free option for bootstrapping startups

An autoresponder

Spam filter diagnostics

Social networking integration

List segmentation (including by time zone)
MailChimp's clients include well-known brands such as TED, The Economist, and Vice UK.
What does MailChimp cost?
As we've seen, MailChimp offers a free option. That's a great plan if you're a cash-strapped small business.
What do you get with the freebie? A lot, actually.
You can have up to 2,000 subscribers. You can send as many as 12,000 emails per month.
However, there are some things you won't get with the free solution as well, such as spam filter diagnostics, an autoresponder, testing features, delivery by time zone, and some social network integration.
Also, your recipients will see a MailChimp badge at the bottom of their emails.
Of course, there are paid solutions as well. They start at just $10 per month.
The pricing structure is driven by your number of subscribers and the the types of services you'll require. It's best to contact MailChimp to get more info before you pull the trigger on a plan.
A Cloud-Based Solution
Good news: you don't have to install any software to use MailChimp. It's a 100% cloud-based solution.
That means you can run it from your favorite browser.
However, if you want to use it on your mobile device, MailChimp does offer an app. That's available for both the iOS and Android platforms.
Signing Up
As is the case with most well-established online services, MailChimp makes it easy to sign up. All you have to do is enter a name and email address and you're good to go.
Once you first start to use the service, though, MailChimp will need a little more info. You'll have to provide your company name, physical address, and other details.
Starting Out with MailChimp
Once you've signed up, MailChimp will take you to the dashboard. You'll see that it's simple by design.
At first, you'll have three options: create an email campaign, import a list, and build an audience.
If you've already got a list of email addresses, import it into MailChimp. Then, you can create a campaign using that list.
Once you've launched your first campaign, that plain vanilla dashboard you saw at the beginning will be replaced with info showing campaign activity, email list growth, and the latest news.
Creating a MailChimp Email Campaign
Even if you don't have an email list, you can still create a campaign. MailChimp gives you the option to send emails to yourself.
It's a great idea to always use that feature for testing purposes.
When you do create a campaign, you'll need to enter basic settings and choose your tracking options. Additionally, you'll have to configure social media integration.
When it comes to customization and personalization, MailChimp enables you to use a number of merge tags. Those are markup elements in emails that get substituted with recipient info (such as the person's name).
MailChimp also offers countless email templates to choose from so that you can set the look and feel of your email. You'll almost certainly find one that matches your brand identity in the bunch.
The user interface also makes it easy to edit your emails. You can drag-and-drop text blocks, buttons, images, and social media icons.
Once you've got just the layout you want, you can save it for later use.
Also, MailChimp autosaves your work every 20 seconds. So if you spend a lot of time working on a template and your system suddenly crashes, you won't have to cuss. Most of your work has already been saved.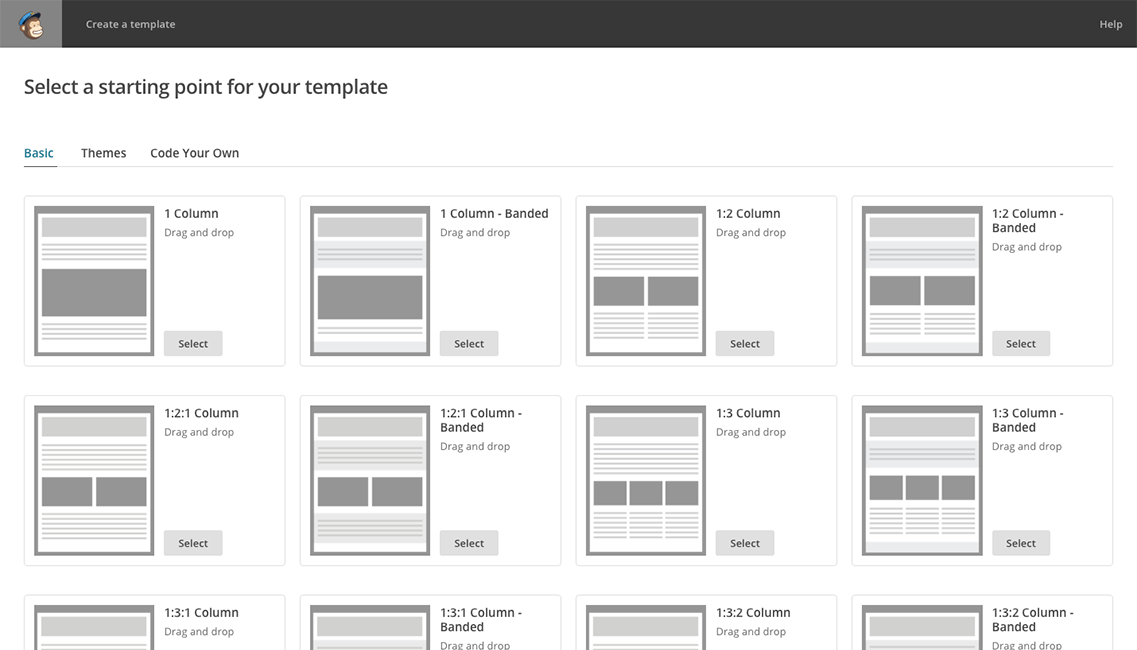 If you're an email marketing power user, MailChimp also lets you design your own HTML email template from scratch.
You can also preview your email before sending it out. MailChimp will show you what your email will look like on both desktop and mobile platforms.
Sending Your Emails
It's fairly easy to send emails out once you've created your campaign. You can send them immediately or at some point in the future.
When you do decide to send an email campaign, you'll have to associate it with a list.
If you don't have a list added to MailChimp, you can import it. If you're importing from a flat file, the system supports both XLS and CSV formats. You can also import directly from a different program, such as Salesforce, Eventbrite, Highrise, and Zendesk.
Alternatively, you can create a new list. MailChimp will also generate a corresponding sign-up form. You can personalize that form and add it to your website.
Once you have a list, MailChimp makes it easy to segment it. That gives you the opportunity to send highly targeted emails to specific groups within your market.
Also: when you send emails to smaller, segmented lists, you're saving money. Remember, MailChimp effectively charges you based on how much you use the service.
Analytics
You'll get plenty of email marketing info with MailChimp's reports.
For starters, you'll see the open and click-through rates. Those are two of the most important metrics in any email campaign.
Beyond that, MailChimp will show you the most popular links in your emails, a list of subscribers with the most opens, and performance during the first day after sending your emails.
You'll also see a heatmap that shows you where your emails get the most attention. In this case, the heatmap is literally a map.
As in: it's a map of the world.
So if you want to answer the question: "Where in the world are people reading my emails?", MailChimp has you covered.
MailChimp doesn't just stop by showing you how well your emails are performing. The service also gives you some benchmark numbers that you can use for comparison purposes.
You'll see average stats for both your industry and your list.
MailChimp also shows metrics for successful deliveries, failed deliveries, forwards, bounces, social media activity, and unsubscribes.
But wait, there's more. The service offers advanced metrics to show you high-level stats such as ROI, generated revenue, and the average value of each visitor.
Customer Service
Even the best email solution will sometimes leave you with a question occasionally. When that happens, you need to contact a human being to get some help.
Fortunately, MailChimp offers customer service.
Unfortunately, the company's customer service does not include telephone support. If you want live support, you'll have to get it through email, chat, or social media.
Additionally, MailChimp has a knowledge base that you can search through for answers to your questions. Since chances are pretty good that somebody, somewhere had the same question you have, you might find the answer you're looking for without ever contacting support.
There are also a "Getting Started?" and "Quick Answers" sections for people who are new to the platform.
Add-Ons
You're not stuck with the "out of the box" version of MailChimp once you sign on with the service. There are plenty of add-ons available.
If you're unfamiliar with add-ons (sometimes called "extensions" or "plugins"), they're optional feature sets that you can add to the service. As of now, there are more than 500 of them.
One popular add-on is called ClickTale. That tracks the behavior of your recipients from email to your website.
If you're running a support shop yourself, you'll be happy to know that there's a Zendesk add-on.
There's even an Eventbrite add-on to streamline event management.
MailChimp also offers integrations with some of the most popular ecommerce solutions, including Shopify, BigCommerce, and Magento.
Finally, you can also integrate MailChimp with some of the more well-known CRM services, including Salesforce, Zoho, and Capsule.
Complaints of MailChimp
Alas, nobody bats a thousand in the digital marketing industry. Even the best companies have their fair share of critics. MailChimp is no exception.
Some people complain about inconsistent customer service. That's probably a result of the company's lack of phone support, though.
Many folks just want to talk to a human being. They don't want to send emails or chat.
Another common complaint: users say that they have to go through the whole opt-in process again when they transfer email lists. Obviously, that's not something too many marketers are keen on doing.
Finally, some users are confused by the pricing structure. Unlike many other online services, MailChimp doesn't make it crystal clear what you get for the money you'll spend. Most "Pricing" pages tend to be far more descriptive.
MailChimp Praises
MailChimp has its share of happy users and brand evangelists, too. There are plenty of business who love using the service.
Over at G2, MailChimp currently enjoys a rating of 4.3 out of 5 stars. Here's an excerpt from one of the more recent reviews:
MailChimp does a great job of walking you through creation of an email campaign in a fairly foolproof step-by-step manner. The page layout is simple and clear – the options are clearly visible and intuitive – I have confidently sent others (non-technical people) in my organization to "try it out" and have found that they are able to move forward without a need for sit-down training in how to create lists and campaigns.
Also, the Android and iOS apps get 4 out of 5 stars.
Lots of users find MailChimp easy to use. That's probably the most popular compliment the service gets.
You probably won't have to deal with a long learning curve if you decide to sign on with it.
Additionally, young entrepreneurs like the free service. Sure, it's got some limitations, but it gets the job done for business owners who are in a pinch.
Users also appreciate MailChimp's analytics. Even though he reports don't include everything that some of the industrial-strength solutions offer, the basics are there.
Finally, MailChimpers like the user interface when it comes to customizing their own emails. The drag-and-drop solution makes email design a snap.
Wrapping Up This MailChimp Review
If you're brand, spankin' new to email marketing, you should definitely add MailChimp to your short list of possible email marketing solutions. Go with the free option just so you can get a feel for how to use it at no cost to you.
If this isn't your first rodeo, you should at least compare MailChimp to other services, such as AWeber and GetResponse. You might find that some of the other ones offer a little bit more at a competitive price.
There's no doubt, though, that MailChimp has a great reputation as an email service provider.